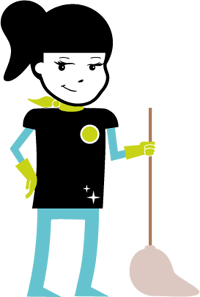 Trust is everything. And we want to earn it.
Letting a stranger into your apartment requires a lot of trust. We understand that. That is why during the first appointment you will have the chance to tell our maid(s) all about your wishes and areas we should focus on. Because only if we know and understand your wishes, will we be able to do our work to a satisfactory level.

You just want your apartment to be clean, plain and simple? No problem. Our maid(s) work using an exact procedure so that nothing is forgotten or missed.
Lernen Sie uns kennen und machen Sie sich in Zukunft über wichtigere Dinge Gedanken, als über Ihre liegengebliebenen Hausarbeiten.